19. Compute with Turtles¶
A turtle here is not an animal. We are working with a virtual turtle, an idea that dates back to the 1960's. The original robot turtle had a physical pen in it. The student-programmers would steer the robot around using programs, and create drawings with the pen.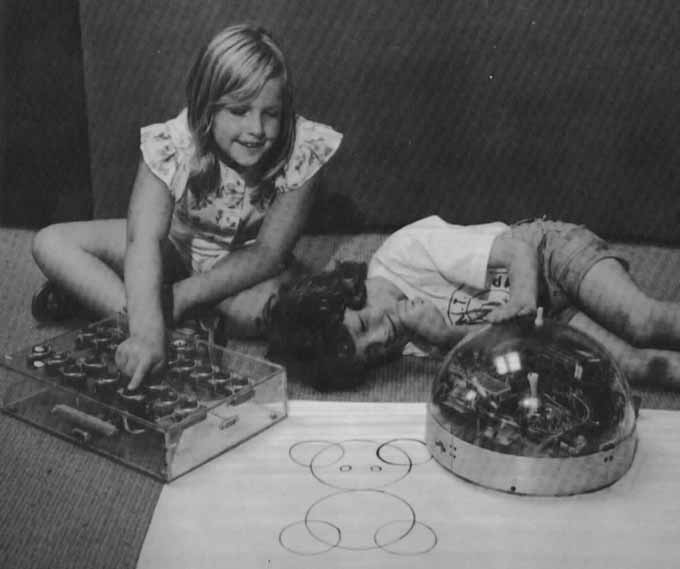 Today, we can play with virtual turtles in a fully-graphical and non-robotic way. Below is a sample Java program that works with Turtles. Try clicking the

button below to see what the following program does.

import java.awt.Image;
import java.awt.image.BufferedImage;

/**
 * Interface to describe a digital picture.  A digital picture can have an
 * associated file name.  It can have a title.  It has pixels
 * associated with it and you can get and set the pixels.  You
 * can get an Image from a picture or a BufferedImage.  You can load
 * it from a file name or image.  You can show a picture.  You can
 * explore a picture.  You can create a new image for it.
 *
 * @author Barb Ericson ericson@cc.gatech.edu
 */
public interface DigitalPicture
{
  public String getFileName(); // get the file name that the picture came from
  public String getTitle(); // get the title of the picture
  public void setTitle(String title); // set the title of the picture
  public int getWidth(); // get the width of the picture in pixels
  public int getHeight(); // get the height of the picture in pixels
  public Image getImage(); // get the image from the picture
  public BufferedImage getBufferedImage(); // get the buffered image
  public int getBasicPixel(int x, int y); // get the pixel information as an int
  public void setBasicPixel(int x, int y, int rgb); // set the pixel information
  public Pixel getPixel(int x, int y); // get the pixel information as an object
  public Pixel[] getPixels(); // get all pixels in row-major order
  public Pixel[][] getPixels2D(); // get 2-D array of pixels in row-major order
  public void load(Image image); // load the image into the picture
  public boolean load(String fileName); // load the picture from a file
  public void show(); // show the picture
  public boolean write(String fileName); // write out a file
}
import java.awt.Graphics;

/**
 * Interface to used to communicate between a model
 * and its display
 *
 * Copyright Georgia Institute of Technology 2004
 * @author Barb Ericson ericson@cc.gatech.edu
 */
public interface ModelDisplay
{
  /** method to notify the thing that displays that
   * the model has changed */
  public void modelChanged();

  /** method to add the model to the world
   * @param model the model object to add */
  public void addModel(Object model);

  /**
   * Method to remove the model from the world
   * @param model the model object to remove */
  public void remove(Object model);

  /**
   * Method that returns the graphics context
   * for this model display
   * @return the graphics context
   */
  public Graphics getGraphics();

  /**
   * Method to clear the background
   */
  public void clearBackground();

  /** Method to get the width of the display
   * @return the width in pixels of the display
   */
  public int getWidth();

  /** Method to get the height of the display
   * @return the height in pixels of the display
   */
  public int getHeight();
}
import java.awt.*;
import java.awt.geom.*;

/**
 * This class represents a displayable path segment
 * it has a color, width, and a Line2D object
 * Copyright Georgia Institute of Technology 2005
 * @author Barb Ericson ericson@cc.gatech.edu
 */
public class PathSegment
{
  //////////////// fields /////////////////////
  private Color color;
  private int width;
  private Line2D.Float line;

  //////////////// constructors ///////////////

  /**
   * Constructor that takes the color, width,
   * and line
   */
  public PathSegment (Color theColor, int theWidth,
                      Line2D.Float theLine)
  {
    this.color = theColor;
    this.width = theWidth;
    this.line = theLine;
  }

  //////////////// methods ////////////////////

  /**
   * Method to paint this path segment
   * @param g the graphics context
   */
  public void paintComponent(Graphics g)
  {
    Graphics2D g2 = (Graphics2D) g;
    BasicStroke penStroke = new BasicStroke(this.width);
    g2.setStroke(penStroke);
    g2.setColor(this.color);
    g2.draw(this.line);
  }

} // end of class
import java.awt.*;
import java.awt.geom.*;
import javax.swing.*;
import java.util.List;
import java.util.ArrayList;
import java.util.Iterator;

/**
 * Class to represent a pen which has a color, width,
 * and a list of path segments that it should draw.
 * A pen also knows if it is up or down
 *
 * Copyright Georgia Institute of Technology 2004
 * @author Barb Ericson ericson@cc.gatech.edu
 */
public class Pen
{
  ////////////////// fields //////////////////////

  /** track if up or down */
  private boolean penDown = true;

  /** color of ink */
  private Color color = Color.green;

  /** width of stroke */
  private int width = 1;

  /** list of path segment objects to draw */
  private List pathSegmentList =
    new ArrayList();

  //////////////// constructors ///////////////////

  /**
   * Constructor that takes no arguments
   */
  public Pen() { }

  /**
   * Constructor that takes all the ink color, and width
   * @param color the ink color
   * @param width the width in pixels
   */
  public Pen(Color color, int width)
  {
    this.color = color;
    this.width = width;
  }

  /**
   * Constructor that takes the ink color, width, and penDown flag
   * @param color the ink color
   * @param width the width in pixels
   * @param penDown the flag if the pen is down
   */
  public Pen(Color color, int width, boolean penDown)
  {
    // use the other constructor to set these
    this(color,width);

    // set the pen down flag
    this.penDown = penDown;
  }

  ////////////////// methods ///////////////////////

  /**
   * Method to get pen down status
   * @return true if the pen is down else false
   */
  public boolean isPenDown() { return penDown; }

  /**
   * Method to set the pen down value
   * @param value the new value to use
   */
  public void setPenDown(boolean value) { penDown = value; }

  /**
   * Method to get the pen (ink) color
   * @return the ink color
   */
  public Color getColor() { return color; }

  /**
   * Method to set the pen (ink) color
   * @param color the color to use
   */
  public void setColor(Color color) { this.color = color;}

  /**
   * Method to get the width of the pen
   * @return the width in pixels
   */
  public int getWidth() { return width; }

  /**
   * Method to set the width of the pen
   * @param width the width to use in pixels
   */
  public void setWidth(int width) { this.width = width; }

  /**
   * Method to add a path segment if the pen is down
   * @param x1 the first x
   * @param y1 the first y
   * @param x2 the second x
   * @param y2 the second y
   */
  public synchronized void addMove(int x1, int y1, int x2, int y2)
  {
    if (penDown)
    {
      PathSegment pathSeg =
        new PathSegment(this.color,this.width,
                        new Line2D.Float(x1,y1,x2,y2));
      pathSegmentList.add(pathSeg);
    }
  }

  /**
   * Method to clear the path stored for this pen
   */
  public void clearPath()
  {
    pathSegmentList.clear();
  }

  /**
   * Metod to paint the pen path
   * @param g the graphics context
   */
  public synchronized void paintComponent(Graphics g)
  {

    Color oldcolor = g.getColor();

    // loop through path segment list and
    Iterator iterator = pathSegmentList.iterator();
    PathSegment pathSeg = null;

    // loop through path segments
    while (iterator.hasNext())
    {
      pathSeg = (PathSegment) iterator.next();
      pathSeg.paintComponent(g);
    }

    g.setColor(oldcolor);
  }

} // end of class
import java.awt.*;
import java.awt.font.*;
import java.awt.geom.*;
import java.awt.image.BufferedImage;
import java.text.*;
import java.util.*;
import java.util.List; // resolves problem with java.awt.List and java.util.List

/**
 * A class that represents a picture.  This class inherits from
 * SimplePicture and allows the student to add functionality to
 * the Picture class.
 *
 * @author Barbara Ericson ericson@cc.gatech.edu
 */
public class Picture extends SimplePicture
{
  ///////////////////// constructors //////////////////////////////////

  /**
   * Constructor that takes no arguments
   */
  public Picture ()
  {
    /* not needed but use it to show students the implicit call to super()
     * child constructors always call a parent constructor
     */
    super();
  }

  /**
   * Constructor that takes a file name and creates the picture
   * @param fileName the name of the file to create the picture from
   */
  public Picture(String fileName)
  {
    // let the parent class handle this fileName
    super(fileName);
  }

  /**
   * Constructor that takes the height and width
   * @param height the height of the desired picture
   * @param width the width of the desired picture
   */
  public Picture(int height, int width)
  {
    // let the parent class handle this width and height
    super(width,height);
  }

  /**
   * Constructor that takes a picture and creates a
   * copy of that picture
   * @param copyPicture the picture to copy
   */
  public Picture(Picture copyPicture)
  {
    // let the parent class do the copy
    super(copyPicture);
  }

  /**
   * Constructor that takes a buffered image
   * @param image the buffered image to use
   */
  public Picture(BufferedImage image)
  {
    super(image);
  }

  ////////////////////// methods ///////////////////////////////////////

  /**
   * Method to return a string with information about this picture.
   * @return a string with information about the picture such as fileName,
   * height and width.
   */
  public String toString()
  {
    String output = "Picture, filename " + getFileName() +
      " height " + getHeight()
      + " width " + getWidth();
    return output;

  }

} // this } is the end of class Picture, put all new methods before this

import java.awt.Color;

/**
 * Class that references a pixel in a picture. Pixel
 * stands for picture element where picture is
 * abbreviated pix.  A pixel has a column (x) and
 * row (y) location in a picture.  A pixel knows how
 * to get and set the red, green, blue, and alpha
 * values in the picture.  A pixel also knows how to get
 * and set the color using a Color object.
 *
 * @author Barb Ericson ericson@cc.gatech.edu
 */
public class Pixel
{

  ////////////////////////// fields ///////////////////////////////////

  /** the digital picture this pixel belongs to */
  private DigitalPicture picture;

  /** the x (column) location of this pixel in the picture; (0,0) is top left */
  private int x;

  /** the y (row) location of this pixel in the picture; (0,0) is top left */
  private int y;

  ////////////////////// constructors /////////////////////////////////

  /**
   * A constructor that takes the x and y location for the pixel and
   * the picture the pixel is coming from
   * @param picture the picture that the pixel is in
   * @param x the x location of the pixel in the picture
   * @param y the y location of the pixel in the picture
   */
  public Pixel(DigitalPicture picture, int x, int y)
  {
    // set the picture
    this.picture = picture;

    // set the x location
    this.x = x;

    // set the y location
    this.y = y;

  }

  ///////////////////////// methods //////////////////////////////

  /**
   * Method to get the x location of this pixel.
   * @return the x location of the pixel in the picture
   */
  public int getX() { return x; }

  /**
   * Method to get the y location of this pixel.
   * @return the y location of the pixel in the picture
   */
  public int getY() { return y; }

  /**
   * Method to get the row (y value)
   * @return the row (y value) of the pixel in the picture
   */
  public int getRow() { return y; }

  /**
   * Method to get the column (x value)
   * @return the column (x value) of the pixel
   */
  public int getCol() { return x; }

  /**
   * Method to get the amount of alpha (transparency) at this pixel.
   * It will be from 0-255.
   * @return the amount of alpha (transparency)
   */
  public int getAlpha() {

    /* get the value at the location from the picture as a 32 bit int
     * with alpha, red, green, blue each taking 8 bits from left to right
     */
    int value = picture.getBasicPixel(x,y);

    // get the alpha value (starts at 25 so shift right 24)
    // then and it with all 1's for the first 8 bits to keep
    // end up with from 0 to 255
    int alpha = (value >> 24) & 0xff;

    return alpha;
  }

  /**
   * Method to get the amount of red at this pixel.  It will be
   * from 0-255 with 0 being no red and 255 being as much red as
   * you can have.
   * @return the amount of red from 0 for none to 255 for max
   */
  public int getRed() {

    /* get the value at the location from the picture as a 32 bit int
     * with alpha, red, green, blue each taking 8 bits from left to right
     */
    int value = picture.getBasicPixel(x,y);

    // get the red value (starts at 17 so shift right 16)
    // then AND it with all 1's for the first 8 bits to
    // end up with a resulting value from 0 to 255
    int red = (value >> 16) & 0xff;

    return red;
  }

  /**
   * Method to get the red value from a pixel represented as an int
   * @param value the color value as an int
   * @return the amount of red
   */
  public static int getRed(int value)
  {
    int red = (value >> 16) & 0xff;
    return red;
  }

  /**
   * Method to get the amount of green at this pixel.  It will be
   * from 0-255 with 0 being no green and 255 being as much green as
   * you can have.
   * @return the amount of green from 0 for none to 255 for max
   */
  public int getGreen() {

    /* get the value at the location from the picture as a 32 bit int
     * with alpha, red, green, blue each taking 8 bits from left to right
     */
    int value = picture.getBasicPixel(x,y);

    // get the green value (starts at 9 so shift right 8)
    int green = (value >>  8) & 0xff;

    return green;
  }

  /**
   * Method to get the green value from a pixel represented as an int
   * @param value the color value as an int
   * @return the amount of green
   */
  public static int getGreen(int value)
  {
    int green = (value >> 8) & 0xff;
    return green;
  }

  /**
   * Method to get the amount of blue at this pixel.  It will be
   * from 0-255 with 0 being no blue and 255 being as much blue as
   * you can have.
   * @return the amount of blue from 0 for none to 255 for max
   */
  public int getBlue() {

    /* get the value at the location from the picture as a 32 bit int
     * with alpha, red, green, blue each taking 8 bits from left to right
     */
    int value = picture.getBasicPixel(x,y);

    // get the blue value (starts at 0 so no shift required)
    int blue = value & 0xff;

    return blue;
  }

  /**
   * Method to get the blue value from a pixel represented as an int
   * @param value the color value as an int
   * @return the amount of blue
   */
  public static int getBlue(int value)
  {
    int blue = value & 0xff;
    return blue;
  }

  /**
   * Method to get a color object that represents the color at this pixel.
   * @return a color object that represents the pixel color
   */
  public Color getColor()
  {
     /* get the value at the location from the picture as a 32 bit int
     * with alpha, red, green, blue each taking 8 bits from left to right
     */
    int value = picture.getBasicPixel(x,y);

    // get the red value (starts at 17 so shift right 16)
    // then AND it with all 1's for the first 8 bits to
    // end up with a resulting value from 0 to 255
    int red = (value >> 16) & 0xff;

    // get the green value (starts at 9 so shift right 8)
    int green = (value >>  8) & 0xff;

    // get the blue value (starts at 0 so no shift required)
    int blue = value & 0xff;

    return new Color(red,green,blue);
  }

  /**
   * Method to set the pixel color to the passed in color object.
   * @param newColor the new color to use
   */
  public void setColor(Color newColor)
  {
    // set the red, green, and blue values
    int red = newColor.getRed();
    int green = newColor.getGreen();
    int blue = newColor.getBlue();

    // update the associated picture
    updatePicture(this.getAlpha(),red,green,blue);
  }

  /**
   * Method to update the picture based on the passed color
   * values for this pixel
   * @param alpha the alpha (transparency) at this pixel
   * @param red the red value for the color at this pixel
   * @param green the green value for the color at this pixel
   * @param blue the blue value for the color at this pixel
   */
  public void updatePicture(int alpha, int red, int green, int blue)
  {
    // create a 32 bit int with alpha, red, green blue from left to right
    int value = (alpha << 24) + (red << 16) + (green << 8) + blue;

    // update the picture with the int value
    picture.setBasicPixel(x,y,value);
  }

  /**
   * Method to correct a color value to be within 0 to 255
   * @param the value to use
   * @return a value within 0 to 255
   */
  private static int correctValue(int value)
  {
    if (value < 0)
      value = 0;
    if (value > 255)
      value = 255;
    return value;
  }

  /**
   * Method to set the red to a new red value
   * @param value the new value to use
   */
  public void setRed(int value)
  {
    // set the red value to the corrected value
    int red = correctValue(value);

    // update the pixel value in the picture
    updatePicture(getAlpha(), red, getGreen(), getBlue());
  }

  /**
   * Method to set the green to a new green value
   * @param value the value to use
   */
  public void setGreen(int value)
  {
    // set the green value to the corrected value
    int green = correctValue(value);

    // update the pixel value in the picture
    updatePicture(getAlpha(), getRed(), green, getBlue());
  }

  /**
   * Method to set the blue to a new blue value
   * @param value the new value to use
   */
  public void setBlue(int value)
  {
    // set the blue value to the corrected value
    int blue = correctValue(value);

    // update the pixel value in the picture
    updatePicture(getAlpha(), getRed(), getGreen(), blue);
  }

   /**
   * Method to set the alpha (transparency) to a new alpha value
   * @param value the new value to use
   */
  public void setAlpha(int value)
  {
    // make sure that the alpha is from 0 to 255
    int alpha = correctValue(value);

    // update the associated picture
    updatePicture(alpha, getRed(), getGreen(), getBlue());
  }

  /**
  * Method to get the distance between this pixel's color and the passed color
  * @param testColor the color to compare to
  * @return the distance between this pixel's color and the passed color
  */
 public double colorDistance(Color testColor)
 {
   double redDistance = this.getRed() - testColor.getRed();
   double greenDistance = this.getGreen() - testColor.getGreen();
   double blueDistance = this.getBlue() - testColor.getBlue();
   double distance = Math.sqrt(redDistance * redDistance +
                               greenDistance * greenDistance +
                               blueDistance * blueDistance);
   return distance;
 }

 /**
  * Method to compute the color distances between two color objects
  * @param color1 a color object
  * @param color2 a color object
  * @return the distance between the two colors
  */
 public static double colorDistance(Color color1,Color color2)
 {
   double redDistance = color1.getRed() - color2.getRed();
   double greenDistance = color1.getGreen() - color2.getGreen();
   double blueDistance = color1.getBlue() - color2.getBlue();
   double distance = Math.sqrt(redDistance * redDistance +
                               greenDistance * greenDistance +
                               blueDistance * blueDistance);
   return distance;
 }

 /**
  * Method to get the average of the colors of this pixel
  * @return the average of the red, green, and blue values
  */
 public double getAverage()
 {
   double average = (getRed() + getGreen() + getBlue()) / 3.0;
   return average;
 }

  /**
   * Method to return a string with information about this pixel
   * @return a string with information about this pixel
   */
  public String toString()
  {
    return "Pixel row=" + getRow() +
      " col=" + getCol() +
      " red=" + getRed() +
      " green=" + getGreen() +
      " blue=" + getBlue();
  }

}
import javax.imageio.ImageIO;
import java.awt.image.BufferedImage;
import javax.swing.ImageIcon;
import java.awt.*;
import java.io.*;
import java.awt.geom.*;

import java.io.ByteArrayOutputStream;
import javax.xml.bind.DatatypeConverter;

import java.util.Scanner;

/**
 * A class that represents a simple picture.  A simple picture may have
 * an associated file name and a title.  A simple picture has pixels,
 * width, and height.  A simple picture uses a BufferedImage to
 * hold the pixels. You can also explore a simple picture.
 *
 * @author Barb Ericson ericson@cc.gatech.edu
 */
public class SimplePicture implements DigitalPicture
{

  /////////////////////// Fields /////////////////////////

  /**
   * the file name associated with the simple picture
   */
  private String fileName;

  /**
   * the path name for the file
   */
  private String pathName;

  /**
   * the title of the simple picture
   */
  private String title;

  /**
   * buffered image to hold pixels for the simple picture
   */
  private BufferedImage bufferedImage;

  /**
   * extension for this file (jpg or bmp)
   */
  private String extension;


 /////////////////////// Constructors /////////////////////////

 /**
  * A Constructor that takes no arguments.  It creates a picture with
  * a width of 200 and a height of 100 that is all white.
  * A no-argument constructor must be given in order for a class to
  * be able to be subclassed.  By default all subclasses will implicitly
  * call this in their parent's no-argument constructor unless a
  * different call to super() is explicitly made as the first line
  * of code in a constructor.
  */
 public SimplePicture()
 {this(200,100);}

 /**
  * A Constructor that takes a file name and uses the file to create
  * a picture
  * @param fileName the file name to use in creating the picture
  */
 public SimplePicture(String fileName)
 {

   // load the picture into the buffered image
   load(fileName);

 }

 /**
  * A constructor that takes the width and height desired for a picture and
  * creates a buffered image of that size.  This constructor doesn't
  * show the picture.  The pixels will all be white.
  * @param width the desired width
  * @param height the desired height
  */
 public  SimplePicture(int width, int height)
 {
   bufferedImage = new BufferedImage(width, height, BufferedImage.TYPE_INT_RGB);
   title = "None";
   fileName = "None";
   extension = "jpg";
   setAllPixelsToAColor(Color.white);
 }

 /**
  * A constructor that takes the width and height desired for a picture and
  * creates a buffered image of that size.  It also takes the
  * color to use for the background of the picture.
  * @param width the desired width
  * @param height the desired height
  * @param theColor the background color for the picture
  */
 public  SimplePicture(int width, int height, Color theColor)
 {
   this(width,height);
   setAllPixelsToAColor(theColor);
 }

 /**
  * A Constructor that takes a picture to copy information from
  * @param copyPicture the picture to copy from
  */
 public SimplePicture(SimplePicture copyPicture)
 {
   if (copyPicture.fileName != null)
   {
      this.fileName = new String(copyPicture.fileName);
      this.extension = copyPicture.extension;
   }
   if (copyPicture.title != null)
      this.title = new String(copyPicture.title);
   if (copyPicture.bufferedImage != null)
   {
     this.bufferedImage = new BufferedImage(copyPicture.getWidth(),
                                            copyPicture.getHeight(), BufferedImage.TYPE_INT_RGB);
     this.copyPicture(copyPicture);
   }
 }

 /**
  * A constructor that takes a buffered image
  * @param image the buffered image
  */
 public SimplePicture(BufferedImage image)
 {
   this.bufferedImage = image;
   title = "None";
   fileName = "None";
   extension = "jpg";
 }

 ////////////////////////// Methods //////////////////////////////////

 /**
  * Method to get the extension for this picture
  * @return the extension (jpg, bmp, giff, etc)
  */
 public String getExtension() { return extension; }

 /**
  * Method that will copy all of the passed source picture into
  * the current picture object
  * @param sourcePicture  the picture object to copy
  */
 public void copyPicture(SimplePicture sourcePicture)
 {
   Pixel sourcePixel = null;
   Pixel targetPixel = null;

   // loop through the columns
   for (int sourceX = 0, targetX = 0;
        sourceX < sourcePicture.getWidth() &&
        targetX < this.getWidth();
        sourceX++, targetX++)
   {
     // loop through the rows
     for (int sourceY = 0, targetY = 0;
          sourceY < sourcePicture.getHeight() &&
          targetY < this.getHeight();
          sourceY++, targetY++)
     {
       sourcePixel = sourcePicture.getPixel(sourceX,sourceY);
       targetPixel = this.getPixel(targetX,targetY);
       targetPixel.setColor(sourcePixel.getColor());
     }
   }

 }

 /**
  * Method to set the color in the picture to the passed color
  * @param color the color to set to
  */
 public void setAllPixelsToAColor(Color color)
 {
   // loop through all x
   for (int x = 0; x < this.getWidth(); x++)
   {
     // loop through all y
     for (int y = 0; y < this.getHeight(); y++)
     {
       getPixel(x,y).setColor(color);
     }
   }
 }

 /**
  * Method to get the buffered image
  * @return the buffered image
  */
 public BufferedImage getBufferedImage()
 {
    return bufferedImage;
 }

 /**
  * Method to get a graphics object for this picture to use to draw on
  * @return a graphics object to use for drawing
  */
 public Graphics getGraphics()
 {
   return bufferedImage.getGraphics();
 }

 /**
  * Method to get a Graphics2D object for this picture which can
  * be used to do 2D drawing on the picture
  */
 public Graphics2D createGraphics()
 {
   return bufferedImage.createGraphics();
 }

 /**
  * Method to get the file name associated with the picture
  * @return  the file name associated with the picture
  */
 public String getFileName() { return fileName; }

 /**
  * Method to set the file name
  * @param name the full pathname of the file
  */
 public void setFileName(String name)
 {
   fileName = name;
 }

 /**
  * Method to get the title of the picture
  * @return the title of the picture
  */
 public String getTitle()
 { return title; }

 /**
  * Method to set the title for the picture
  * @param title the title to use for the picture
  */
 public void setTitle(String title)
 {
   this.title = title;
 }

 /**
  * Method to get the width of the picture in pixels
  * @return the width of the picture in pixels
  */
 public int getWidth() { return bufferedImage.getWidth(); }

 /**
  * Method to get the height of the picture in pixels
  * @return  the height of the picture in pixels
  */
 public int getHeight() { return bufferedImage.getHeight(); }

 /**
  * Method to get an image from the picture
  * @return  the buffered image since it is an image
  */
 public Image getImage()
 {
   return bufferedImage;
 }

 /**
  * Method to return the pixel value as an int for the given x and y location
  * @param x the x coordinate of the pixel
  * @param y the y coordinate of the pixel
  * @return the pixel value as an integer (alpha, red, green, blue)
  */
 public int getBasicPixel(int x, int y)
 {
    return bufferedImage.getRGB(x,y);
 }

 /**
  * Method to set the value of a pixel in the picture from an int
  * @param x the x coordinate of the pixel
  * @param y the y coordinate of the pixel
  * @param rgb the new rgb value of the pixel (alpha, red, green, blue)
  */
 public void setBasicPixel(int x, int y, int rgb)
 {
   bufferedImage.setRGB(x,y,rgb);
 }

 /**
  * Method to get a pixel object for the given x and y location
  * @param x  the x location of the pixel in the picture
  * @param y  the y location of the pixel in the picture
  * @return a Pixel object for this location
  */
 public Pixel getPixel(int x, int y)
 {
   // create the pixel object for this picture and the given x and y location
   Pixel pixel = new Pixel(this,x,y);
   return pixel;
 }

 /**
  * Method to get a one-dimensional array of Pixels for this simple picture
  * @return a one-dimensional array of Pixel objects starting with y=0
  * to y=height-1 and x=0 to x=width-1.
  */
 public Pixel[] getPixels()
 {
   int width = getWidth();
   int height = getHeight();
   Pixel[] pixelArray = new Pixel[width * height];

   // loop through height rows from top to bottom
   for (int row = 0; row < height; row++)
     for (int col = 0; col < width; col++)
       pixelArray[row * width + col] = new Pixel(this,col,row);

   return pixelArray;
 }

 /**
  * Method to get a two-dimensional array of Pixels for this simple picture
  * @return a two-dimensional array of Pixel objects in row-major order.
  */
 public Pixel[][] getPixels2D()
 {
   int width = getWidth();
   int height = getHeight();
   Pixel[][] pixelArray = new Pixel[height][width];

   // loop through height rows from top to bottom
   for (int row = 0; row < height; row++)
     for (int col = 0; col < width; col++)
       pixelArray[row][col] = new Pixel(this,col,row);

   return pixelArray;
 }

 /**
  * Method to load the buffered image with the passed image
  * @param image  the image to use
  */
 public void load(Image image)
 {
   // get a graphics context to use to draw on the buffered image
   Graphics2D graphics2d = bufferedImage.createGraphics();

   // draw the image on the buffered image starting at 0,0
   graphics2d.drawImage(image,0,0,null);

   // show the new image
   show();
 }

 /**
  * Method to show the picture in a picture frame
  */
 public void show()
 {
     try {
         ByteArrayOutputStream output = new ByteArrayOutputStream();
         ImageIO.write(this.bufferedImage, "png", output);
         String result = DatatypeConverter.printBase64Binary(output.toByteArray());
         System.out.println("&ltimg src=\"data:image/" + this.extension + ";base64," + result + "\"/>");
     } catch (IOException e) {
         System.out.println("Errors occured in image conversion");
     }
 }

 /**
  * Method to load the picture from the passed file name
  * @param fileName the file name to use to load the picture from
  * @throws IOException if the picture isn't found
  */
 public void loadOrFail(String fileName) throws IOException
 {
    // set the current picture's file name
   this.fileName = fileName;

   // set the extension
   int posDot = fileName.lastIndexOf('.');
   if (posDot >= 0)
     this.extension = fileName.substring(posDot + 1);

    //get file location
    String[] paths = fileName.split("/");
    this.pathName = "";
    if(paths.length != 1) {
        for(int i = 0; i < paths.length - 1; i++) {
            this.pathName = this.pathName + paths[i] + "/";
        }
    }
   // if the current title is null use the file name
   if (title == null)
     title = fileName;

   File file = new File(this.fileName);

   if (!file.canRead())
   {
     throw new IOException(this.fileName +
                         " could not be opened. Check that you specified the path");
   }
   bufferedImage = ImageIO.read(file);


 }


 /**
  * Method to read the contents of the picture from a filename
  * without throwing errors
  * @param fileName the name of the file to write the picture to
  * @return true if success else false
  */
 public boolean load(String fileName)
 {
     try {
         this.loadOrFail(fileName);
         return true;

     } catch (Exception ex) {
         System.out.println("There was an error trying to open " + fileName);
         bufferedImage = new BufferedImage(600,200,
                                           BufferedImage.TYPE_INT_RGB);
         addMessage("Couldn't load " + fileName,5,100);
         return false;
     }

 }

 /**
  * Method to load the picture from the passed file name
  * this just calls load(fileName) and is for name compatibility
  * @param fileName the file name to use to load the picture from
  * @return true if success else false
  */
 public boolean loadImage(String fileName)
 {
     return load(fileName);
 }

 /**
  * Method to draw a message as a string on the buffered image
  * @param message the message to draw on the buffered image
  * @param xPos  the x coordinate of the leftmost point of the string
  * @param yPos  the y coordinate of the bottom of the string
  */
 public void addMessage(String message, int xPos, int yPos)
 {
   // get a graphics context to use to draw on the buffered image
   Graphics2D graphics2d = bufferedImage.createGraphics();

   // set the color to white
   graphics2d.setPaint(Color.white);

   // set the font to Helvetica bold style and size 16
   graphics2d.setFont(new Font("Helvetica",Font.BOLD,16));

   // draw the message
   graphics2d.drawString(message,xPos,yPos);

 }

 /**
  * Method to draw a string at the given location on the picture
  * @param text the text to draw
  * @param xPos the left x for the text
  * @param yPos the top y for the text
  */
 public void drawString(String text, int xPos, int yPos)
 {
   addMessage(text,xPos,yPos);
 }

 /**
   * Method to create a new picture by scaling the current
   * picture by the given x and y factors
   * @param xFactor the amount to scale in x
   * @param yFactor the amount to scale in y
   * @return the resulting picture
   */
  public Picture scale(double xFactor, double yFactor)
  {
    // set up the scale transform
    AffineTransform scaleTransform = new AffineTransform();
    scaleTransform.scale(xFactor,yFactor);

    // create a new picture object that is the right size
    Picture result = new Picture((int) (getHeight() * yFactor),
                                 (int) (getWidth() * xFactor));

    // get the graphics 2d object to draw on the result
    Graphics graphics = result.getGraphics();
    Graphics2D g2 = (Graphics2D) graphics;

    // draw the current image onto the result image scaled
    g2.drawImage(this.getImage(),scaleTransform,null);

    return result;
  }

  /**
   * Method to create a new picture of the passed width.
   * The aspect ratio of the width and height will stay
   * the same.
   * @param width the desired width
   * @return the resulting picture
   */
  public Picture getPictureWithWidth(int width)
  {
    // set up the scale transform
    double xFactor = (double) width / this.getWidth();
    Picture result = scale(xFactor,xFactor);
    return result;
  }

  /**
   * Method to create a new picture of the passed height.
   * The aspect ratio of the width and height will stay
   * the same.
   * @param height the desired height
   * @return the resulting picture
   */
  public Picture getPictureWithHeight(int height)
  {
    // set up the scale transform
    double yFactor = (double) height / this.getHeight();
    Picture result = scale(yFactor,yFactor);
    return result;
  }

 /**
  * Method to load a picture from a file name and show it in a picture frame
  * @param fileName the file name to load the picture from
  * @return true if success else false
  */
 public boolean loadPictureAndShowIt(String fileName)
 {
   boolean result = true;  // the default is that it worked

   // try to load the picture into the buffered image from the file name
   result = load(fileName);

   // show the picture in a picture frame
   show();

   return result;
 }

 /**
  * Method to write the contents of the picture to a file with
  * the passed name
  * @param fileName the name of the file to write the picture to
  */
 public void writeOrFail(String fileName) throws IOException
 {
   String extension = this.extension; // the default is current

   // create the file object
   File file = new File(fileName);

   // get the extension
   int posDot = fileName.indexOf('.');
   if (posDot >= 0)
       extension = fileName.substring(posDot + 1);

   // write the contents of the buffered image to the file
   ImageIO.write(bufferedImage, extension, file);

 }

 /**
  * Method to write the contents of the picture to a file with
  * the passed name without throwing errors
  * @param fileName the name of the file to write the picture to
  * @return true if success else false
  */
 public boolean write(String fileName)
 {
     try {
         this.writeOrFail(fileName);
         return true;
     } catch (Exception ex) {
         System.out.println("There was an error trying to write " + fileName);
         ex.printStackTrace();
         return false;
     }

 }

  /**
   * Method to get the coordinates of the enclosing rectangle after this
   * transformation is applied to the current picture
   * @return the enclosing rectangle
   */
  public Rectangle2D getTransformEnclosingRect(AffineTransform trans)
  {
    int width = getWidth();
    int height = getHeight();
    double maxX = width - 1;
    double maxY = height - 1;
    double minX, minY;
    Point2D.Double p1 = new Point2D.Double(0,0);
    Point2D.Double p2 = new Point2D.Double(maxX,0);
    Point2D.Double p3 = new Point2D.Double(maxX,maxY);
    Point2D.Double p4 = new Point2D.Double(0,maxY);
    Point2D.Double result = new Point2D.Double(0,0);
    Rectangle2D.Double rect = null;

    // get the new points and min x and y and max x and y
    trans.deltaTransform(p1,result);
    minX = result.getX();
    maxX = result.getX();
    minY = result.getY();
    maxY = result.getY();
    trans.deltaTransform(p2,result);
    minX = Math.min(minX,result.getX());
    maxX = Math.max(maxX,result.getX());
    minY = Math.min(minY,result.getY());
    maxY = Math.max(maxY,result.getY());
    trans.deltaTransform(p3,result);
    minX = Math.min(minX,result.getX());
    maxX = Math.max(maxX,result.getX());
    minY = Math.min(minY,result.getY());
    maxY = Math.max(maxY,result.getY());
    trans.deltaTransform(p4,result);
    minX = Math.min(minX,result.getX());
    maxX = Math.max(maxX,result.getX());
    minY = Math.min(minY,result.getY());
    maxY = Math.max(maxY,result.getY());

    // create the bounding rectangle to return
    rect = new Rectangle2D.Double(minX,minY,maxX - minX + 1, maxY - minY + 1);
    return rect;
  }

  /**
   * Method to get the coordinates of the enclosing rectangle after this
   * transformation is applied to the current picture
   * @return the enclosing rectangle
   */
  public Rectangle2D getTranslationEnclosingRect(AffineTransform trans)
  {
    return getTransformEnclosingRect(trans);
  }

 /**
  * Method to return a string with information about this picture
  * @return a string with information about the picture
  */
 public String toString()
 {
   String output = "Simple Picture, filename " + fileName +
     " height " + getHeight() + " width " + getWidth();
   return output;
 }

} // end of SimplePicture class
import javax.swing.*;
import java.awt.*;
import java.awt.font.*;
import java.awt.geom.*;
import java.util.Observer;
import java.util.Random;

/**
 * Class that represents a Logo-style turtle.  The turtle
 * starts off facing north.
 * A turtle can have a name, has a starting x and y position,
 * has a heading, has a width, has a height, has a visible
 * flag, has a body color, can have a shell color, and has a pen.
 * The turtle will not go beyond the model display or picture
 * boundaries.
 *
 * You can display this turtle in either a picture or in
 * a class that implements ModelDisplay.
 *
 * Copyright Georgia Institute of Technology 2004
 * @author Barb Ericson ericson@cc.gatech.edu
 */
public class SimpleTurtle
{
  ///////////////// fields ////////////////////////

  /** count of the number of turtles created */
  private static int numTurtles = 0;

  /** array of colors to use for the turtles */
  private static Color[] colorArray = { Color.green, Color.cyan, new Color(204,0,204), Color.gray};

  /** who to notify about changes to this turtle */
  private ModelDisplay modelDisplay = null;

  /** picture to draw this turtle on */
  private Picture picture = null;

  /** width of turtle in pixels */
  private int width = 15;

  /** height of turtle in pixels */
  private int height = 18;

  /** current location in x (center) */
  private int xPos = 0;

  /** current location in y (center) */
  private int yPos = 0;

  /** heading angle */
  private double heading = 0;  // default is facing north

  /** pen to use for this turtle */
  private Pen pen = new Pen();

  /** color to draw the body in */
  private Color bodyColor = null;

  /** color to draw the shell in */
  private Color shellColor = null;

  /** color of information string */
  private Color infoColor = Color.black;

  /** flag to say if this turtle is visible */
  private boolean visible = true;

  /** flag to say if should show turtle info */
  private boolean showInfo = false;

  /** the name of this turtle */
  private String name = "No name";

  ////////////////// constructors ///////////////////

  /**
   * Constructor that takes the x and y position for the
   * turtle
   * @param x the x pos
   * @param y the y pos
   */
  public SimpleTurtle(int x, int y)
  {
    xPos = x;
    yPos = y;
    bodyColor = colorArray[numTurtles % colorArray.length];
    setPenColor(bodyColor);
    numTurtles++;
  }

  /**
   * Constructor that takes the x and y position and the
   * model displayer
   * @param x the x pos
   * @param y the y pos
   * @param display the model display
   */
  public SimpleTurtle(int x, int y, ModelDisplay display)
  {
    this(x,y); // invoke constructor that takes x and y
    modelDisplay = display;
    display.addModel(this);
  }

  /**
   * Constructor that takes a model display and adds
   * a turtle in the middle of it
   * @param display the model display
   */
  public SimpleTurtle(ModelDisplay display)
  {
    // invoke constructor that takes x and y
    this((int) (display.getWidth() / 2),
         (int) (display.getHeight() / 2));
    modelDisplay = display;
    display.addModel(this);

  }

  /**
   * Constructor that takes the x and y position and the
   * picture to draw on
   * @param x the x pos
   * @param y the y pos
   * @param picture the picture to draw on
   */
  public SimpleTurtle(int x, int y, Picture picture)
  {
    this(x,y); // invoke constructor that takes x and y
    this.picture = picture;
    this.visible = false; // default is not to see the turtle
  }

  /**
   * Constructor that takes the
   * picture to draw on and will appear in the middle
   * @param picture the picture to draw on
   */
  public SimpleTurtle(Picture picture)
  {
    // invoke constructor that takes x and y
    this((int) (picture.getWidth() / 2),
         (int) (picture.getHeight() / 2));
    this.picture = picture;
    this.visible = false; // default is not to see the turtle
  }

  //////////////////// methods /////////////////////////

  /**
   * Get the distance from the passed x and y location
   * @param x the x location
   * @param y the y location
   */
  public double getDistance(int x, int y)
  {
    int xDiff = x - xPos;
    int yDiff = y - yPos;
    return (Math.sqrt((xDiff * xDiff) + (yDiff * yDiff)));
  }

  /**
   * Method to turn to face another simple turtle
   */
  public void turnToFace(SimpleTurtle turtle)
  {
    turnToFace(turtle.xPos,turtle.yPos);
  }

   /**
   * Method to turn towards the given x and y
   * @param x the x to turn towards
   * @param y the y to turn towards
   */
  public void turnToFace(int x, int y)
  {
    double dx = x - this.xPos;
    double dy = y - this.yPos;
    double arcTan = 0.0;
    double angle = 0.0;

    // avoid a divide by 0
    if (dx == 0)
    {
      // if below the current turtle
      if (dy > 0)
        heading = 180;

      // if above the current turtle
      else if (dy < 0)
        heading = 0;
    }
    // dx isn't 0 so can divide by it
    else
    {
      arcTan = Math.toDegrees(Math.atan(dy / dx));
      if (dx < 0)
        heading = arcTan - 90;
      else
        heading = arcTan + 90;
    }

    // notify the display that we need to repaint
    updateDisplay();
  }

  /**
   * Method to get the picture for this simple turtle
   * @return the picture for this turtle (may be null)
   */
  public Picture getPicture() { return this.picture; }

  /**
   * Method to set the picture for this simple turtle
   * @param pict the picture to use
   */
  public void setPicture(Picture pict) { this.picture = pict; }

  /**
   * Method to get the model display for this simple turtle
   * @return the model display if there is one else null
   */
  public ModelDisplay getModelDisplay() { return this.modelDisplay; }

  /**
   * Method to set the model display for this simple turtle
   * @param theModelDisplay the model display to use
   */
  public void setModelDisplay(ModelDisplay theModelDisplay)
  { this.modelDisplay = theModelDisplay; }

  /**
   * Method to get value of show info
   * @return true if should show info, else false
   */
  public boolean getShowInfo() { return this.showInfo; }

  /**
   * Method to show the turtle information string
   * @param value the value to set showInfo to
   */
  public void setShowInfo(boolean value) { this.showInfo = value; }

  /**
   * Method to get the shell color
   * @return the shell color
   */
  public Color getShellColor()
  {
    Color color = null;
    if (this.shellColor == null && this.bodyColor != null)
      color = bodyColor.darker();
    else color = this.shellColor;
    return color;
  }

  /**
   * Method to set the shell color
   * @param color the color to use
   */
  public void setShellColor(Color color) {  this.shellColor = color; }

  /**
   * Method to get the body color
   * @return the body color
   */
  public Color getBodyColor() { return this.bodyColor; }

  /**
   * Method to set the body color which
   * will also set the pen color
   * @param color the color to use
   */
  public void setBodyColor(Color color)
  {
    this.bodyColor = color;
    setPenColor(this.bodyColor);
  }

  /**
   * Method to set the color of the turtle.
   * This will set the body color
   * @param color the color to use
   */
  public void setColor(Color color) { this.setBodyColor(color); }

  /**
   * Method to get the information color
   * @return the color of the information string
   */
  public Color getInfoColor() { return this.infoColor; }

  /**
   * Method to set the information color
   * @param color the new color to use
   */
  public void setInfoColor(Color color) { this.infoColor = color; }

  /**
   * Method to return the width of this object
   * @return the width in pixels
   */
  public int getWidth() { return this.width; }

  /**
   * Method to return the height of this object
   * @return the height in pixels
   */
  public int getHeight() { return this.height; }

  /**
   * Method to set the width of this object
   * @param theWidth in width in pixels
   */
  public void setWidth(int theWidth) { this.width = theWidth; }

  /**
   * Method to set the height of this object
   * @param theHeight the height in pixels
   */
  public void setHeight(int theHeight) { this.height = theHeight; }

  /**
   * Method to get the current x position
   * @return the x position (in pixels)
   */
  public int getXPos() { return this.xPos; }

  /**
   * Method to get the current y position
   * @return the y position (in pixels)
   */
  public int getYPos() { return this.yPos; }

  /**
   * Method to get the pen
   * @return the pen
   */
  public Pen getPen() { return this.pen; }

  /**
   * Method to set the pen
   * @param thePen the new pen to use
   */
  public void setPen(Pen thePen) { this.pen = thePen; }

  /**
   * Method to check if the pen is down
   * @return true if down else false
   */
  public boolean isPenDown() { return this.pen.isPenDown(); }

  /**
   * Method to set the pen down boolean variable
   * @param value the value to set it to
   */
  public void setPenDown(boolean value) { this.pen.setPenDown(value); }

  /**
   * Method to lift the pen up
   */
  public void penUp() { this.pen.setPenDown(false);}

  /**
   * Method to set the pen down
   */
  public void penDown() { this.pen.setPenDown(true);}

  /**
   * Method to get the pen color
   * @return the pen color
   */
  public Color getPenColor() { return this.pen.getColor(); }

  /**
   * Method to set the pen color
   * @param color the color for the pen ink
   */
  public void setPenColor(Color color) { this.pen.setColor(color); }

  /**
   * Method to set the pen width
   * @param width the width to use in pixels
   */
  public void setPenWidth(int width) { this.pen.setWidth(width); }

  /**
   * Method to get the pen width
   * @return the width of the pen in pixels
   */
  public int getPenWidth() { return this.pen.getWidth(); }

  /**
   * Method to clear the path (history of
   * where the turtle has been)
   */
  public void clearPath()
  {
    this.pen.clearPath();
  }

  /**
   * Method to get the current heading
   * @return the heading in degrees
   */
  public double getHeading() { return this.heading; }

  /**
   * Method to set the heading
   * @param heading the new heading to use
   */
  public void setHeading(double heading)
  {
    this.heading = heading;
  }

  /**
   * Method to get the name of the turtle
   * @return the name of this turtle
   */
  public String getName() { return this.name; }

  /**
   * Method to set the name of the turtle
   * @param theName the new name to use
   */
  public void setName(String theName)
  {
    this.name = theName;
  }

  /**
   * Method to get the value of the visible flag
   * @return true if visible else false
   */
  public boolean isVisible() { return this.visible;}

  /**
   * Method to hide the turtle (stop showing it)
   * This doesn't affect the pen status
   */
  public void hide() { this.setVisible(false); }

  /**
   * Method to show the turtle (doesn't affect
   * the pen status
   */
  public void show() { this.setVisible(true); }

  /**
   * Method to set the visible flag
   * @param value the value to set it to
   */
  public void setVisible(boolean value)
  {
    // if the turtle wasn't visible and now is
    if (visible == false && value == true)
    {
      // update the display
      this.updateDisplay();
    }

    // set the visibile flag to the passed value
    this.visible = value;
  }

  /**
   * Method to update the display of this turtle and
   * also check that the turtle is in the bounds
   */
  public synchronized void updateDisplay()
  {
    // check that x and y are at least 0
    if (xPos < 0)
      xPos = 0;
    if (yPos < 0)
      yPos = 0;

    // if picture
    if (picture != null)
    {
      if (xPos >= picture.getWidth())
        xPos = picture.getWidth() - 1;
      if (yPos >= picture.getHeight())
        yPos = picture.getHeight() - 1;
      Graphics g = picture.getGraphics();
      paintComponent(g);
    }
    else if (modelDisplay != null)
    {
      if (xPos >= modelDisplay.getWidth())
        xPos = modelDisplay.getWidth() - 1;
      if (yPos >= modelDisplay.getHeight())
        yPos = modelDisplay.getHeight() - 1;
      modelDisplay.modelChanged();
    }
  }

  /**
   * Method to move the turtle foward 100 pixels
   */
  public void forward() { forward(100); }

  /**
   * Method to move the turtle forward the given number of pixels
   * @param pixels the number of pixels to walk forward in the heading direction
   */
  public void forward(int pixels)
  {
    int oldX = xPos;
    int oldY = yPos;

    // change the current position
    xPos = oldX + (int) (pixels * Math.sin(Math.toRadians(heading)));
    yPos = oldY + (int) (pixels * -Math.cos(Math.toRadians(heading)));

    // add a move from the old position to the new position to the pen
    pen.addMove(oldX,oldY,xPos,yPos);

    // update the display to show the new line
    updateDisplay();
  }

  /**
   * Method to go backward by 100 pixels
   */
  public void backward()
  {
    backward(100);
  }

  /**
   * Method to go backward a given number of pixels
   * @param pixels the number of pixels to walk backward
   */
  public void backward(int pixels)
  {
    forward(-pixels);
  }

  /**
   * Method to move to turtle to the given x and y location
   * @param x the x value to move to
   * @param y the y value to move to
   */
  public void moveTo(int x, int y)
  {
    this.pen.addMove(xPos,yPos,x,y);
    this.xPos = x;
    this.yPos = y;
    this.updateDisplay();
  }

  /**
   * Method to turn left
   */
  public void turnLeft()
  {
   this.turn(-90);
  }

  /**
   * Method to turn right
   */
  public void turnRight()
  {
    this.turn(90);
  }

  /**
   * Method to turn the turtle the passed degrees
   * use negative to turn left and pos to turn right
   * @param degrees the amount to turn in degrees
   */
  public void turn(double degrees)
  {
    this.heading = (heading + degrees) % 360;
    this.updateDisplay();
  }

  /**
   * Method to draw a passed picture at the current turtle
   * location and rotation in a picture or model display
   * @param dropPicture the picture to drop
   */
  public synchronized void drop(Picture dropPicture)
  {
    Graphics2D g2 = null;

    // only do this if drawing on a picture
    if (picture != null)
      g2 = (Graphics2D) picture.getGraphics();
    else if (modelDisplay != null)
      g2 = (Graphics2D) modelDisplay.getGraphics();

    // if g2 isn't null
    if (g2 != null)
    {

      // save the current tranform
      AffineTransform oldTransform = g2.getTransform();

      // rotate to turtle heading and translate to xPos and yPos
      g2.rotate(Math.toRadians(heading),xPos,yPos);

      // draw the passed picture
      g2.drawImage(dropPicture.getImage(),xPos,yPos,null);

      // reset the tranformation matrix
      g2.setTransform(oldTransform);

      //  draw the pen
      pen.paintComponent(g2);
    }
  }

  /**
   * Method to paint the turtle
   * @param g the graphics context to paint on
   */
  public synchronized void paintComponent(Graphics g)
  {
    // cast to 2d object
    Graphics2D g2 = (Graphics2D) g;

    // if the turtle is visible
    if (visible)
    {
      // save the current tranform
      AffineTransform oldTransform = g2.getTransform();

      // rotate the turtle and translate to xPos and yPos
      g2.rotate(Math.toRadians(heading),xPos,yPos);

      // determine the half width and height of the shell
      int halfWidth = (int) (width/2); // of shell
      int halfHeight = (int) (height/2); // of shell
      int quarterWidth = (int) (width/4); // of shell
      int thirdHeight = (int) (height/3); // of shell
      int thirdWidth = (int) (width/3); // of shell

      // draw the body parts (head)
      g2.setColor(bodyColor);
      g2.fillOval(xPos - quarterWidth,
                  yPos - halfHeight - (int) (height/3),
                  halfWidth, thirdHeight);
      g2.fillOval(xPos - (2 * thirdWidth),
                  yPos - thirdHeight,
                  thirdWidth,thirdHeight);
      g2.fillOval(xPos - (int) (1.6 * thirdWidth),
                  yPos + thirdHeight,
                  thirdWidth,thirdHeight);
      g2.fillOval(xPos + (int) (1.3 * thirdWidth),
                  yPos - thirdHeight,
                  thirdWidth,thirdHeight);
      g2.fillOval(xPos + (int) (0.9 * thirdWidth),
                  yPos + thirdHeight,
                  thirdWidth,thirdHeight);


      // draw the shell
      g2.setColor(getShellColor());
      g2.fillOval(xPos - halfWidth,
                  yPos - halfHeight, width, height);

      // draw the info string if the flag is true
      if (showInfo)
        drawInfoString(g2);

      // reset the tranformation matrix
      g2.setTransform(oldTransform);
    }

    //  draw the pen
    pen.paintComponent(g);
  }

  /**
   * Method to draw the information string
   * @param g the graphics context
   */
  public synchronized void drawInfoString(Graphics g)
  {
    g.setColor(infoColor);
    g.drawString(this.toString(),xPos + (int) (width/2),yPos);
  }

  /**
   * Method to return a string with informaiton
   * about this turtle
   * @return a string with information about this object
   */
  public String toString()
  {
    return this.name + " turtle at " + this.xPos + ", " +
      this.yPos + " heading " + this.heading + ".";
  }

} // end of class
import java.util.*;
import java.awt.*;

/**
 * Class that represents a turtle which is similar to a Logo turtle.
 * This class inherts from SimpleTurtle and is for students
 * to add methods to.
 *
 * Copyright Georgia Institute of Technology 2004
 * @author Barb Ericson ericson@cc.gatech.edu
 */
public class Turtle extends SimpleTurtle
{
  ////////////////// constructors ///////////////////////

  /** Constructor that takes the x and y and a picture to
   * draw on
   * @param x the starting x position
   * @param y the starting y position
   * @param picture the picture to draw on
   */
  public Turtle (int x, int y, Picture picture)
  {
    // let the parent constructor handle it
    super(x,y,picture);
  }

  /** Constructor that takes the x and y and a model
   * display to draw it on
   * @param x the starting x position
   * @param y the starting y position
   * @param modelDisplayer the thing that displays the model
   */
  public Turtle (int x, int y,
                 ModelDisplay modelDisplayer)
  {
    // let the parent constructor handle it
    super(x,y,modelDisplayer);
  }

  /** Constructor that takes the model display
   * @param modelDisplay the thing that displays the model
   */
  public Turtle (ModelDisplay modelDisplay)
  {
    // let the parent constructor handle it
    super(modelDisplay);
  }

  /**
   * Constructor that takes a picture to draw on
   * @param p the picture to draw on
   */
  public Turtle (Picture p)
  {
    // let the parent constructor handle it
    super(p);
  }

  /////////////////// methods ///////////////////////


  public static void main(String[] args)
  {
    World earth = new World();
    Turtle t1 = new Turtle(earth);
    t1.forward();
  }

} // this is the end of class Turtle, put all new methods before this
/**
 * https://github.com/ha-shine/Giffer
 */
import java.awt.Graphics2D;
import java.awt.Image;
import java.awt.image.BufferedImage;
import java.io.File;
import java.io.IOException;
import java.util.Iterator;

import javax.imageio.IIOException;
import javax.imageio.IIOImage;
import javax.imageio.ImageIO;
import javax.imageio.ImageTypeSpecifier;
import javax.imageio.ImageWriter;
import javax.imageio.metadata.IIOInvalidTreeException;
import javax.imageio.metadata.IIOMetadata;
import javax.imageio.metadata.IIOMetadataNode;
import javax.imageio.stream.ImageOutputStream;

/*
 * Giffer is a simple java class to make my life easier in creating gif images.
 *
 * Usage :
 * There are two methods for creating gif images
 * To generate from files, just pass the array of filename Strings to this method
 * Giffer.generateFromFiles(String[] filenames, String output, int delay, boolean loop)
 *
 * Or as an alternative you can use this method which accepts an array of BufferedImage
 * Giffer.generateFromBI(BufferedImage[] images, String output, int delay, boolean loop)
 *
 * output is the name of the output file
 * delay is time between frames, accepts hundredth of a time. Yeah it's weird, blame Oracle
 * loop is the boolean for whether you want to make the image loopable.
 */

public abstract class Giffer {

  // Generate gif from an array of filenames
  // Make the gif loopable if loop is true
  // Set the delay for each frame according to the delay (ms)
  // Use the name given in String output for output file
  public static void generateFromFiles(String[] filenames, String output, int delay, boolean loop)
          throws IIOException, IOException
  {
          int length = filenames.length;
          BufferedImage[] img_list = new BufferedImage[length];

          for (int i = 0; i < length; i++)
          {
                  BufferedImage img = ImageIO.read(new File(filenames[i]));
                  img_list[i] = img;
          }

          generateFromBI(img_list, output, delay, loop);
  }

  // Generate gif from BufferedImage array
  // Make the gif loopable if loop is true
  // Set the delay for each frame according to the delay, 100 = 1s
  // Use the name given in String output for output file
  public static void generateFromBI(BufferedImage[] images, String output, int delay, boolean loop)
                  throws IIOException, IOException
  {
          int maxWidth = 0;
          int maxHeight = 0;
          ImageWriter gifWriter = getWriter();
          ImageOutputStream ios = getImageOutputStream(output);
          IIOMetadata metadata = getMetadata(gifWriter, delay, loop);

          //Get bigger Width and Height
          for (BufferedImage img: images)
          {
                  if(img.getHeight() > maxHeight){
                          maxHeight = img.getHeight();
                  }
                  if(img.getWidth() > maxWidth){
                          maxWidth = img.getWidth();
                  }
          }

          gifWriter.setOutput(ios);
          gifWriter.prepareWriteSequence(null);
          for (BufferedImage img: images)
          {
                  BufferedImage dimg = new BufferedImage(maxWidth, maxHeight, BufferedImage.TYPE_INT_ARGB);
                  Image tmp = img.getScaledInstance(img.getWidth(), img.getHeight(), Image.SCALE_DEFAULT);
                  Graphics2D g2d = dimg.createGraphics();
                  int centerWidth = (maxWidth / 2) - (img.getWidth()/2) ;
                  g2d.drawImage(tmp, centerWidth, 0, null);
              g2d.dispose();

                  IIOImage temp = new IIOImage(dimg, null, metadata);
                  gifWriter.writeToSequence(temp, null);
          }

          gifWriter.endWriteSequence();
  }

  // Retrieve gif writer
  private static ImageWriter getWriter() throws IIOException
  {
          Iterator itr = ImageIO.getImageWritersByFormatName("gif");
          if(itr.hasNext())
                  return (ImageWriter)itr.next();

          throw new IIOException("GIF writer doesn't exist on this JVM!");
  }

  // Retrieve output stream from the given file name
  private static ImageOutputStream getImageOutputStream(String output) throws IOException
  {
          File outfile = new File(output);
          return ImageIO.createImageOutputStream(outfile);
  }

  // Prepare metadata from the user input, add the delays and make it loopable
  // based on the method parameters
  private static IIOMetadata getMetadata(ImageWriter writer, int delay, boolean loop)
          throws IIOInvalidTreeException
  {
          // Get the whole metadata tree node, the name is javax_imageio_gif_image_1.0
          // Not sure why I need the ImageTypeSpecifier, but it doesn't work without it
          ImageTypeSpecifier img_type = ImageTypeSpecifier.createFromBufferedImageType(BufferedImage.TYPE_INT_ARGB);
          IIOMetadata metadata = writer.getDefaultImageMetadata(img_type, null);
          String native_format = metadata.getNativeMetadataFormatName();
          IIOMetadataNode node_tree = (IIOMetadataNode)metadata.getAsTree(native_format);

          // Set the delay time you can see the format specification on this page
          // https://docs.oracle.com/javase/7/docs/api/javax/imageio/metadata/doc-files/gif_metadata.html
          IIOMetadataNode graphics_node = getNode("GraphicControlExtension", node_tree);
          graphics_node.setAttribute("delayTime", String.valueOf(delay));
          graphics_node.setAttribute("disposalMethod", "none");
          graphics_node.setAttribute("userInputFlag", "FALSE");

          if(loop)
                  makeLoopy(node_tree);

          metadata.setFromTree(native_format, node_tree);

          return metadata;
  }

  // Add an extra Application Extension node if the user wants it to be loopable
  // I am not sure about this part, got the code from StackOverflow
  // TODO: Study about this
  private static void makeLoopy(IIOMetadataNode root)
  {
          IIOMetadataNode app_extensions = getNode("ApplicationExtensions", root);
          IIOMetadataNode app_node = getNode("ApplicationExtension", app_extensions);

          app_node.setAttribute("applicationID", "NETSCAPE");
          app_node.setAttribute("authenticationCode", "2.0");
          app_node.setUserObject(new byte[]{ 0x1, (byte) (0 & 0xFF), (byte) ((0 >> 8) & 0xFF)});

          app_extensions.appendChild(app_node);
          root.appendChild(app_extensions);
  }

  // Retrieve the node with the name from the parent root node
  // Append the node if the node with the given name doesn't exist
  private static IIOMetadataNode getNode(String node_name, IIOMetadataNode root)
  {
          IIOMetadataNode node = null;

          for (int i = 0; i < root.getLength(); i++)
          {
                  if(root.item(i).getNodeName().compareToIgnoreCase(node_name) == 0)
                  {
                          node = (IIOMetadataNode) root.item(i);
                          return node;
                  }
          }

          // Append the node with the given name if it doesn't exist
          node = new IIOMetadataNode(node_name);
          root.appendChild(node);

          return node;
  }
}
import javax.swing.*;
import java.util.List;
import java.util.ArrayList;
import java.util.Iterator;
import java.util.Observer;
import java.awt.*;

import java.net.*;
import java.io.*;
import javax.xml.bind.DatatypeConverter;
import javax.imageio.*;
import java.awt.image.*;
import javax.imageio.stream.*;


/**
 * Class to represent a 2d world that can hold turtles and
 * display them
 *
 * Copyright Georgia Institute of Technology 2004
 * @author Barb Ericson ericson@cc.gatech.edu
 */
public class World implements ModelDisplay
{
  ////////////////// fields ///////////////////////

  /** should automatically repaint when model changed */
  private boolean autoRepaint = true;

  /** the background color for the world */
  private Color background = Color.white;

  /** the width of the world */
  private int width = 640;

  /** the height of the world */
  private int height = 480;

  /** the list of turtles in the world */
  private List turtleList = new ArrayList();

  /** background picture */
  private Picture picture = null;

  /* All world changes*/
  private List worldHistory = new ArrayList();


  ////////////////// the constructors ///////////////

  /**
   * Constructor that takes no arguments
   */
  public World()
  {
    // set up the world and make it visible
    initWorld(true);
  }

  /**
   * Constructor that takes a boolean to
   * say if this world should be visible
   * or not
   * @param visibleFlag if true will be visible
   * else if false will not be visible
   */
  public World(boolean visibleFlag)
  {
    initWorld(visibleFlag);
  }

  /**
   * Constructor that takes a width and height for this
   * world
   * @param w the width for the world
   * @param h the height for the world
   */
  public World(int w, int h)
  {
    width = w;
    height = h;

    // set up the world and make it visible
    initWorld(true);
  }

  ///////////////// methods ///////////////////////////

  /**
   * Method to initialize the world
   * @param visibleFlag the flag to make the world
   * visible or not
   */
  private void initWorld(boolean visibleFlag)
  {
    // create the background picture
    picture = new Picture(width,height);
    this.modelChanged();
  }

  /**
   * Method to get the graphics context for drawing on
   * @return the graphics context of the background picture
   */
  public Graphics getGraphics() { return picture.getGraphics(); }

  /**
   * Method to clear the background picture
   */
  public void clearBackground() { picture = new Picture(width,height); }

  /**
   * Method to get the background picture
   * @return the background picture
   */
  public Picture getPicture() { return picture; }

  /**
   * Method to set the background picture
   * @param pict the background picture to use
   */
  public void setPicture(Picture pict) { picture = pict; }

  /**
   * Method to paint this component
   * @param g the graphics context
   */
  public synchronized void paintComponent(Graphics g)
  {
    Turtle turtle = null;

    // draw the background image
    g.drawImage(picture.getImage(),0,0,null);

    // loop drawing each turtle on the background image
    Iterator iterator = turtleList.iterator();
    while (iterator.hasNext())
    {
      turtle = (Turtle) iterator.next();
      turtle.paintComponent(g);
    }
  }

  /**
   * Metod to get the last turtle in this world
   * @return the last turtle added to this world
   */
  public Turtle getLastTurtle()
  {
    return (Turtle) turtleList.get(turtleList.size() - 1);
  }


  /**
   * Method to add a model to this model displayer
   * @param model the model object to add
   */
  public void addModel(Object model)
  {
    turtleList.add((Turtle) model);
  }

  /**
   * Method to check if this world contains the passed
   * turtle
   * @return true if there else false
   */
  public boolean containsTurtle(Turtle turtle)
  {
    return (turtleList.contains(turtle));
  }

  /**
   * Method to remove the passed object from the world
   * @param model the model object to remove
   */
  public void remove(Object model)
  {
    turtleList.remove(model);
  }

  /**
   * Method to get the width in pixels
   * @return the width in pixels
   */
  public int getWidth() { return width; }

  /**
   * Method to get the height in pixels
   * @return the height in pixels
   */
  public int getHeight() { return height; }

  /**
   * Method that allows the model to notify the display
   */
  public void modelChanged()
  {
     Picture p = new Picture(this.width, this.height);
     this.paintComponent(p.getGraphics());
     this.worldHistory.add(p);
  }

  /**
   * Method to set the automatically repaint flag
   * @param value if true will auto repaint
   */
  public void setAutoRepaint(boolean value) { autoRepaint = value; }

  /**
   * Method to show the frame
   */
  public void show()
 {
    this.show(false);
  }

  public void show(boolean showHistory) {
      this.paintComponent(this.picture.getGraphics());
      if(showHistory) {
          try {
              BufferedImage[] images = new BufferedImage[this.worldHistory.size()];
              for(int i = 0; i < this.worldHistory.size(); i++) {
                  images[i] = ((Picture) this.worldHistory.get(i)).getBufferedImage();
              }
              Giffer.generateFromBI(images, "history.gif", 100, false);

              File history = new File("history.gif");

              URL url = history.toURI().toURL();

              byte[] imageBytes = downloadUrl(url);
              String result = DatatypeConverter.printBase64Binary(imageBytes);
              System.gc();
              history.delete();
              double rand = Math.random();
              System.out.println("&ltimg src=\"data:image/gif;base64," + result + "\"/>");

          } catch (IOException e) {
              e.printStackTrace();
          }

      } else {
          this.picture.show();
      }
  }

  private byte[] downloadUrl(URL toDownload) {
    ByteArrayOutputStream outputStream = new ByteArrayOutputStream();

    try {
        byte[] chunk = new byte[4096];
        int bytesRead;
        InputStream stream = toDownload.openStream();

        while ((bytesRead = stream.read(chunk)) > 0) {
            outputStream.write(chunk, 0, bytesRead);
        }
        //toDownload.close();

    } catch (IOException e) {
        e.printStackTrace();
        return null;
    }

    return outputStream.toByteArray();
}

  /**
   * Method to get the list of turtles in the world
   * @return a list of turtles in the world
   */
  public List getTurtleList()
  { return turtleList;}

  /**
   * Method to get an iterator on the list of turtles
   * @return an iterator for the list of turtles
   */
  public Iterator getTurtleIterator()
  { return turtleList.iterator();}

  /**
   * Method that returns information about this world
   * in the form of a string
   * @return a string of information about this world
   */
  public String toString()
  {
    return "A " + getWidth() + " by " + getHeight() +
      " world with " + turtleList.size() + " turtles in it.";
  }

} // end of World class


Next Section - DrJava (an IDE)