3.8.

👩‍💻 Know Your Error Messages¶

Many problems in your program will lead to an error message. For example as I was writing and testing this chapter of the book I wrote the following version of the example program in the previous section.
current_time_str

 

=

 

input

(

"What is the current time (in hours 0-23)?"

)




wait_time_str

 

=

 

input

(

"How many hours do you want to wait"

)





current_time_int

 

=

 

int

(

current_time_str

)




wait_time_int

 

=

 

int

(

wait_time_int

)





final_time_int

 

=

 

current_time_int

 

+

 

wait_time_int




print

(

final_time_int

)



Can you see what is wrong, just by looking at the code? Maybe, maybe not. Our brain tends to see what we think is there, so sometimes it is very hard to find the problem just by looking at the code. Especially when it is our own code and we are sure that we have done everything right!
Let's try the program again, but this time in an activecode:
Aha! Now we have an error message that might be useful. The name error tells us that wait_time_int is not defined. It also tells us that the error is on line 5. That's really useful information. Now look at line five and you will see that wait_time_int is used on both the left and the right hand side of the assignment statement.
Note
The error descriptions you see in activecode may be different (and more understandable!) than in a regular Python interpreter. The interpreter in activecode is limited in many ways, but it is intended for beginners, including the wording chosen to describe errors.
In writing and using this book over the last few years we have collected a lot of statistics about the programs in this book. Here are some statistics about error messages for the exercises in this book.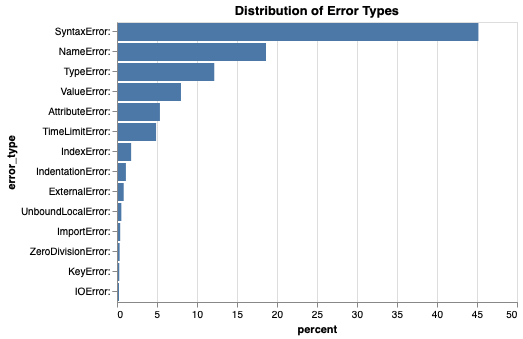 Most of the error messages encountered are SyntaxError, TypeError, NameError, or ValueError. We will look at these errors in three stages:
First we will define what these four error messages mean.

Then, we will look at some examples that cause these errors to occur.

Finally we will look at ways to help uncover the root cause of these messages.
You have attempted of activities on this page